Dear Geospatial User,
2019 Maine Orthoimagery Program
Good afternoon, I have news to share with you on the 2019 Maine Orthoimagery program!  Please see the attached Google Earth screenshot for a status on the 2019 Program.  Note that the color of the flight line indicates the following:
ORANGE

= Not flown

GREEN

= Passed Quality Control

RED

= Re-flight needed
These communities were flown for 4-band orthoimagery this past May under ideal leaf-off, minimal snow conditions:
3" – Bangor, Camden, Rockport, Thomaston

6" –  Biddeford, Brewer, Hampden, Freeport

*

12" – Knox County

18" – Androscoggin, Kennebec, and Sagadahoc Counties

**
*Due to weather and ground conditions, we were not able to capture suitable imagery for  Bridgton, Naples, China, or Cushing, but they are all scheduled for next Spring 2020.
** A few areas for the 18" county acquisitions may need to be re-flown due to clouds, cloud shadow and other (even though the entire line is shown in red indicating a re-flight, it really is just specific areas).  These are minimal issues and will be addressed during the Quality Control process.  If needed, impacted tiles will be re-flown during the Spring 2020 acquisitions and updated tiles will be delivered.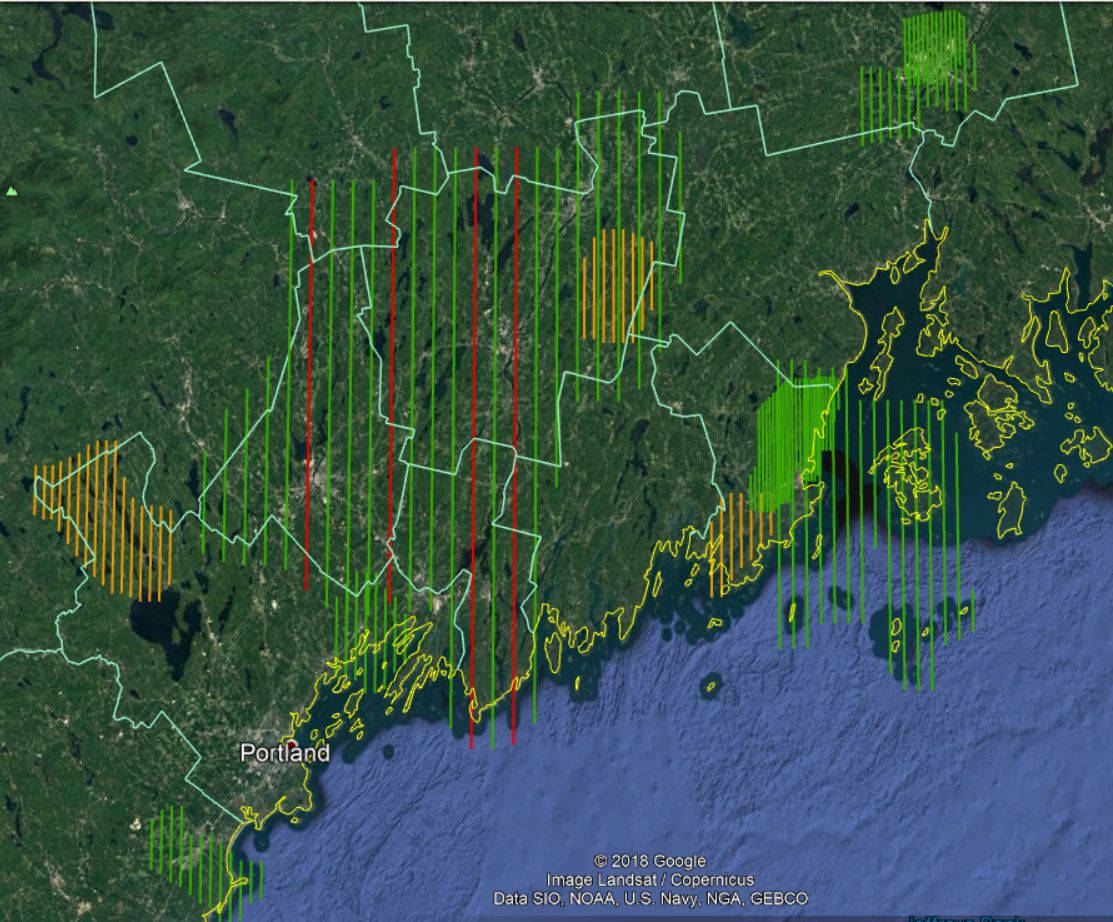 New Maine GeoLibrary Executive Director

I am pleased to let you know that I have been hired as the new Executive Director for the Maine GeoLibrary.  This is a part-time, contract position through my current employer Cornerstone.  I am excited to step into this role and honored to represent the Board.  I have another email address where you can reach me for Maine GeoLibrary concerns, which is listed below.  I monitor both email addresses, so feel free to contact me using either account.  Cell phone is the same.

Claire Kiedrowski

Executive Director

Maine Library of Geographic Information

Cell:     (207) 266-7087

Email: [log in to unmask]

Web:   https://www.maine.gov/geolib/

LI:       https://www.linkedin.com/in/clairekiedrowski/

I look forward to serving you in this new capacity.

Sincerely, Claire

----------------------------------------------------------------------- This list Maine GeoNews (GEOLIBRARY-L) is an unmoderated discussion list for all Maine GIS Users. If you no longer wish to receive e-mail from this list, you can remove your name and email address yourself at the this web address:

http://lists.maine.edu/cgi/wa?SUBED1=geolibrary-l&A=1

Or,you may also request that your name be removed by sending email to: